Culinary Experience at Villa Antonio Winery & Vineyards
At Villa Antonio Winery & Vineyards, we believe that our Italian heritage, food and wines are a reflection of who we are. Our culinary program is headed by Executive Chef Bruce Piatek, who is committed to continuing our original Italian recipes while introducing innovative gourmet recipes providing our guests with a great culinary experience.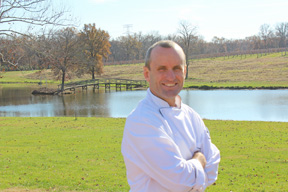 Chef Bruce was born and raised in California. He was introduced to the wonderful world of cooking by his grandfather and father working at their family restaurant in Encitas, California. Chef Bruce is classically trained with a degree at the Le Cordon Bleu College of Culinary Arts.
He has extensive experience as an executive chef in St. Louis including Eleven Eleven Mississippi, Harry's Restaurant, and Meadowbrook Country Club. He also participated in 21st Century Sailor and Marine initiative to improve nutrition and quality of life for sailors aboard the supercarrier the George HW Bush to provide hands-on training to the culinary specialists (CS) on board. Chef Bruce also inspired young chefs as an instructor at Le Cordon Bleu St. Louis.
Gourmet Dinner Series at Villa

Reminiscent of our original dinner series when Fernanda and Tony Polesel first opened their vineyards to the public, we are introducing our Italian inspired gourmet dinners that complement our hand crafted wines from our beautiful vineyards. Dinners are by reservation only.
Join us for our first gourmet dinner in our series on Saturday, October 14th at 6:30 pm.
Fall Harvest Wine Dinner
Saturday, October 14th 6:30 pm
A gourmet 5-course Italian inspired dinner including wine tasting, history of the winery, meet our winemaker and tour of vineyard grounds
$65+tax
Chef Bruce's Lunch Menu

Villa Antonio Winery & Vineyards provides the perfect get a away setting for a relaxed lunch on weekdays. We are open daily for lunch from 11:00 am to 4:00 pm and on most Fridays until 8:30 pm. Our menu includes a variety of gourmet items in addition to old favorites.